Key questions:
How do you want to drive traffic to your landing pages and offer pages?
Why do you feel SEARCH ENGINE traffic will help your business grow?
Where have you gotten leads and sales from the internet up till now?
What are your analytics data showing for inbound keyword traffic?
What keywords do you want to improve rankings for?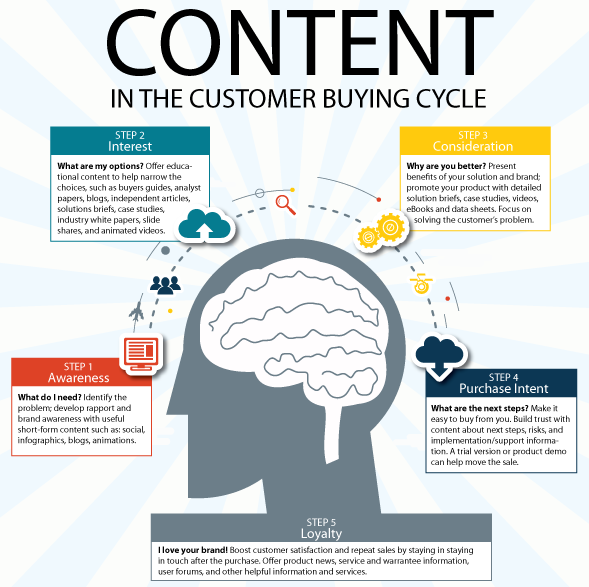 Where is the sweet spot to focus on for your business, right now?
Awareness – what do these people search for?
Interest – what do these people search for?
Consideration – what do these people search for?
Purchase Intent – what do these people search for?
Loyalty – what do these people search for?
Search Engine Optimization Rankings –
Imagine… you are your client researching clinical healthcare coaching and relevant competitors in this space. What would you type in Google?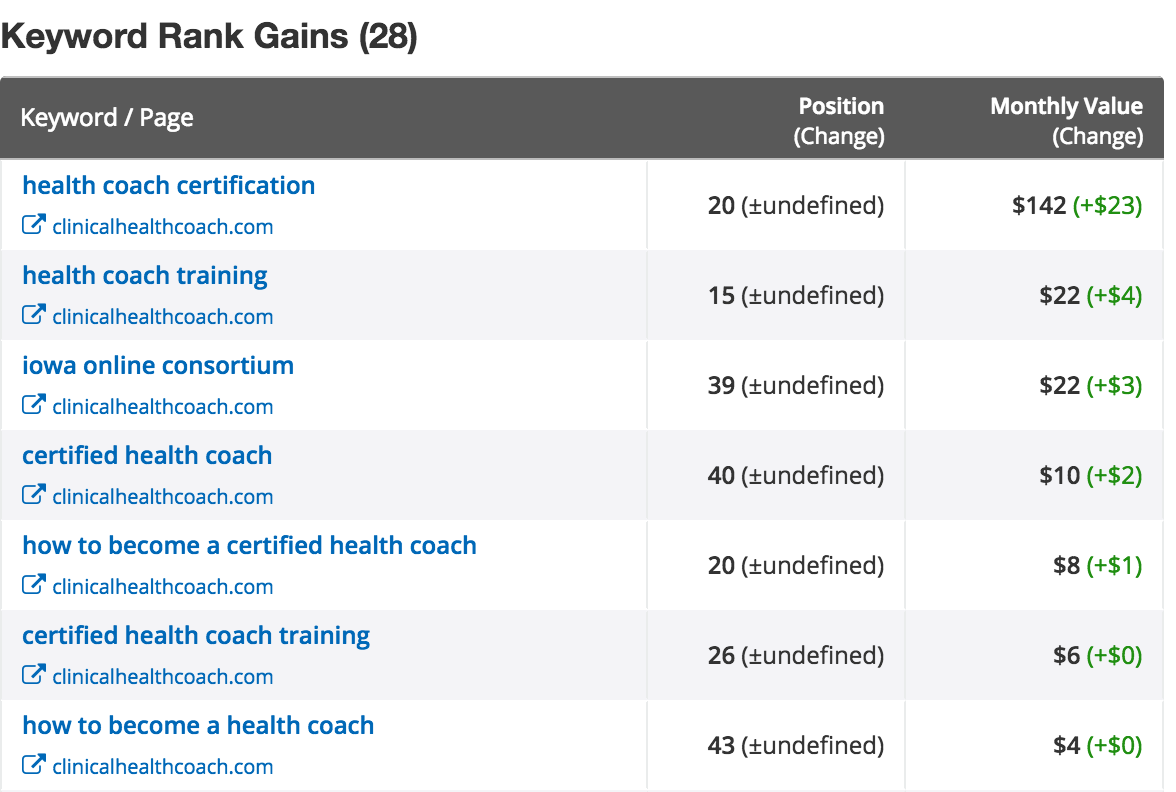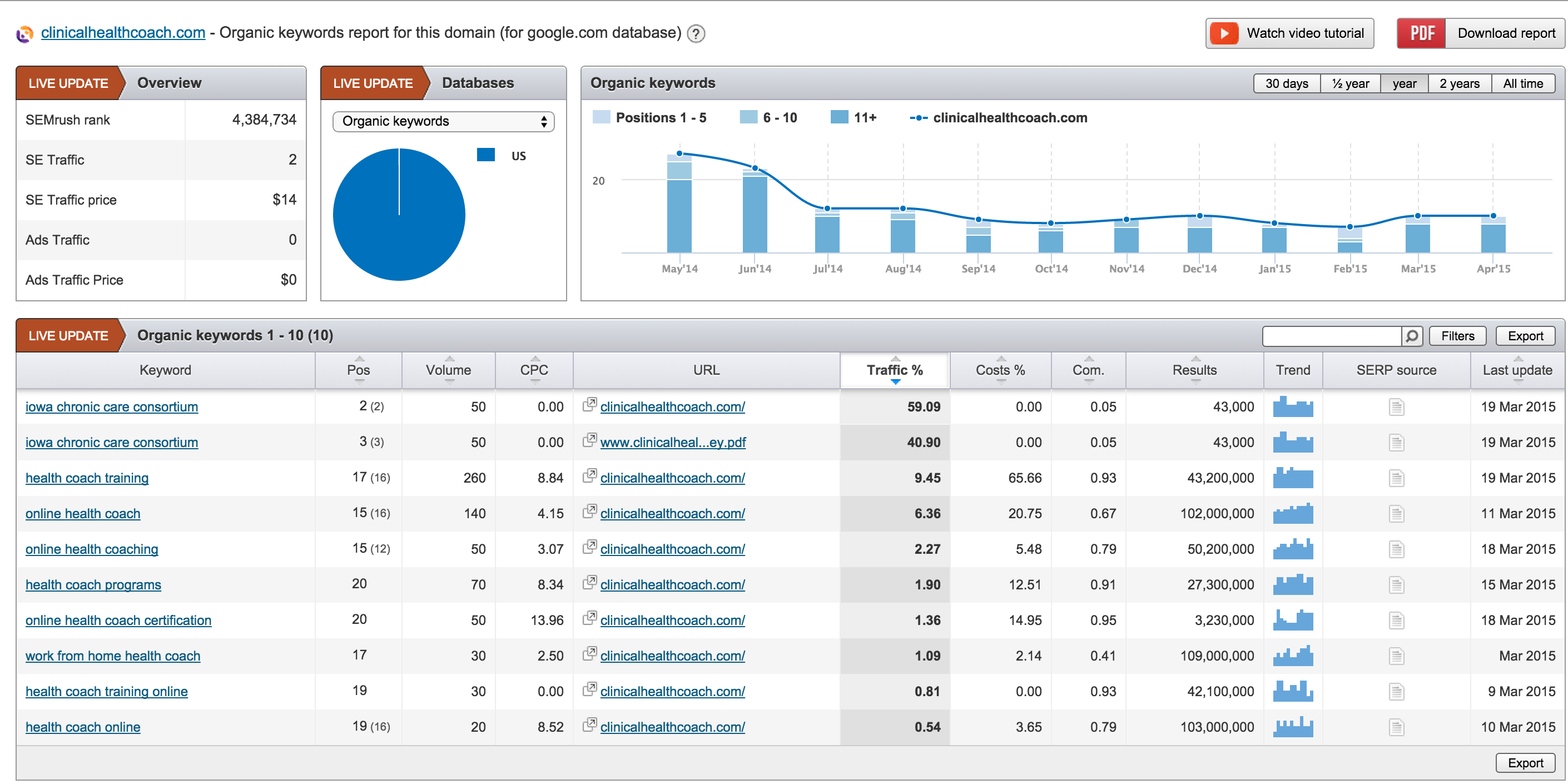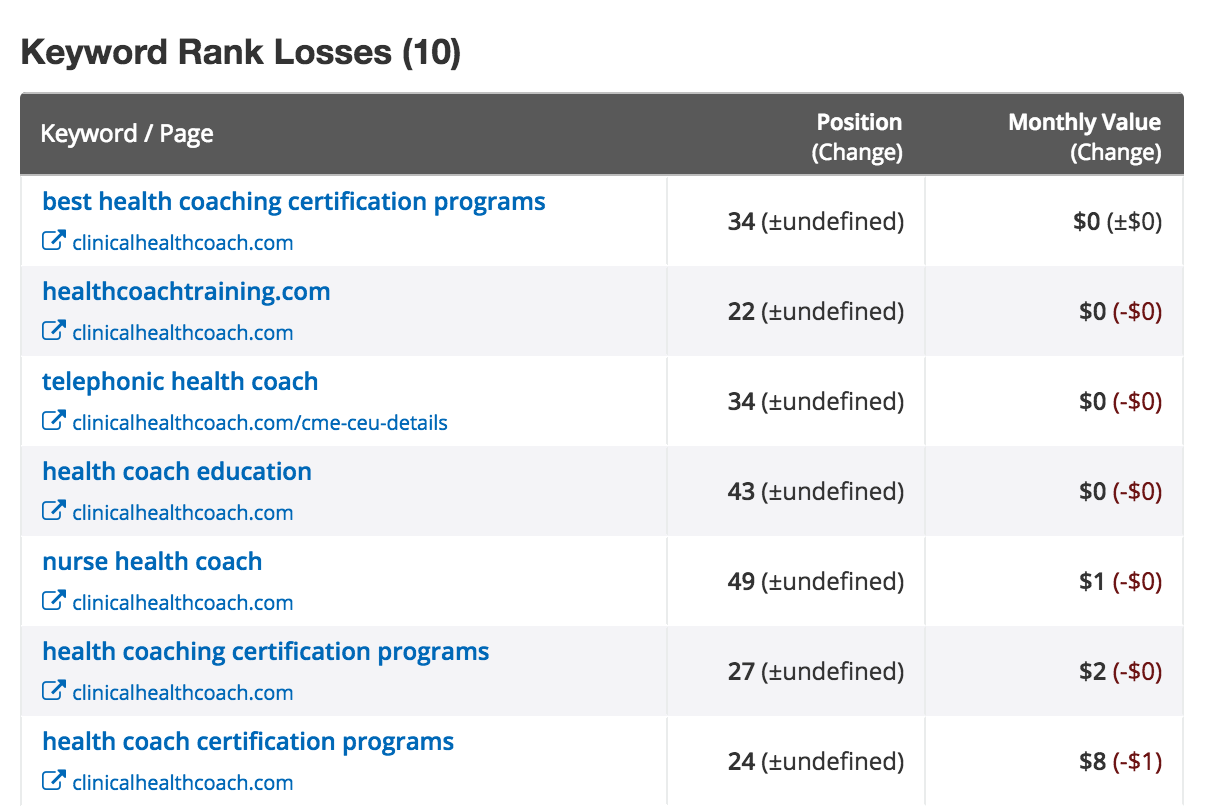 5 Precepts of SEO in Modern Times
1) SEO Is a long term strategy, not a quick fix
It is highly important for you to understand that SEO is very dynamic in nature and takes time to build out. Your businesses SEO strategy should be viewed as a vital and integral part of your long term marketing plan. Yes, there some parts of SEO that your consultant or company may only need to do once every few months, or even years, but with the many continual changes in search engines, your SEO plan will need to be long term and prepared to adapt.
For example; The Google search algorithms change hundreds of times per year. Experts say it's rougly 500 to 600 times each year, which comes out to about 1.5 times every day. The person/company doing your search engine optimization needs to constantly stay on top of these changes and learn how to adapt their methods quickly and effectively.
2) SEO Cannot Exist in a Silo
All types of large corporations as well as small to medium sized businesses are now integrating their SEO plan into their overall marketing goals. Which is important because if they don't then the lack of cohesiveness among all the marketing teams trying to achieve the same overall goal will show up like a huge lead pouring out your companies profits. You definitely need an experienced and professional SEO specialist to head up your search engine optimization team, and make sure sure they are smoothly integrating their strategies with your PPC, social media, video production, writers, and the rest of the marketing, advertising, and sales teams.
For example; you company could have rock solid SEO implementation and your provider has gotten you top rankings for your targeted keyword phrases. This is bringing your business website a lot of targeted traffic from highly qualified prospects and potential customers. That's exactly what you want and why you hired them to do your SEO in the first place.
Furthermore, we are also going to assume that your company also has a successful PPC campaign running alongside your killer organic SEO strategy. The PPC is bringing in qualified leads but they are also costing you money with each click, so they need to be converted quickly. If your various digital marketing and advertising teams aren't well integrated or communicating properly with the sales department, your company could missing out on huge opportunities while also losing money on various methods.
You may be missing out on several things, including:
Highly targeted and qualified leads being driven to the company website from organic search on Google, Bing, and Yahoo.
Great leads and potential clients/customers being driven to the site from paid search. This is great news normally, but if your website isn't mobile responsive, easy to navigate, and has clear calls to action – your users will likely leave without converting.
The SEO team should also be involved with monitoring the pay per click campaigns diligently and checking the number of clicks against the number of conversions. This is another reason why the SEO and sales/marketing/advertising teams need full integration these days.
3) Always Be Thinking Mobile
Google (the only search engine that really matters right now) wants your site to be mobile friendly. There's no doubt about that! They even have an algorithm update that specifically benefits mobile responsive websites in their rankings. They definitely rank mobile friendly/responsive websites higher than those websites that aren't.
4) SEO is Constantly Changing
Change is certain. If there is one thing you can guarantee in the world of search is that things will change. Often. As previously mentioned, Google's search algorithms can change over 500 times in any given year, without notice, and some of them are HUGE changes.
It's not even just SEO that changes frequently. Other aspects of digital marketing are known to change often as well. We've seen social media evolve rapidly along with paid advertising, the way content is delivered, and so many other things. The best thing you can do for yourself and your business is to stay on top of all these important changes by hiring a professional to manage your digital marketing strategy.
5) Google is an Important Referral Engine for Your Business
When you move to a new city or new neighborhood, you would probably ask local friends, family or neighbors where the best place to eat or shop near by. You may inquire about where the closest gym, mall or cafe is in relation to your new house.
These people would like to give you the best advice — or the best referral, because you are a friend or neighbor. They wouldn't want to send you some place where they themselves wouldn't go.
Google is your most knowledgeable friend. When you ask it a question, it wants to give you the best possible answer. This is why we say Google is better seen as a referral engine than a search engine.
If your website is built with a mobile-first approach, is responsive and adaptive to all screen sizes and website browsers, has the proper basic SEO set up, and is regularly publishing quality content that is fully optimized, Google will reward your website with top rankings over your competitors.
Why? Simply because if your competitor's site isn't optimized as well as yours is, why would Google — a searcher's best friend — rank any other website higher than the best one?It wouldn't. The point is, make your website valuable to your target customers, easy for them to find and simple for them to navigate. You'll be rewarded by Google and other search engines.
When considering your strategy for SEO – remember the basic facts listed above.
To Briefly Summarize:
Search Engine Optimization is a long-term strategy. Be prepared to be in it for the long run.
Integrate your healthcare SEO with the rest of your sales and marketing team. You cash even go so far as including operations team in that mix. Internal communication is vital.
You know we live in an increasingly mobile world, right? Are you reading this on your mobile phone right now? If not, how much content did you consume via your smartphone today? Mobile SEO is essential to your website optimization strategy.
Be ready to turn and face the strange changes. The internet is constantly evolving. So is digital marketing as a whole, so this is nothing to be in shock and awe about. Stay on top of the changes or make sure you hire a skilled professional SEO consultant or SEO agency that can help you reach your goals.
Treat Google like a referral engine, not just a "search" engine. If you want a referral, you need to step up your game. This means to ensure your website is user friendly. Start with an SEO audit. Take a look at your user interface (UI) and the overall user experience (UX) of your website, from a user's perspective.
What would happen if your Search Engine Traffic Doubled, Tripled, or Quadrupled?
If you are interested in getting the step-by-step health care SEO Plan and full keyword analysis with suggestive Search Engine Keywords Targeting plan click the BAM BUTTON BELOW.