Search Engine Optimization SAAS –  I went on an online hunt. An internet journey. Trying to find these best SEO software tool to organize BAM's SEO PBNs, the data, and communications, so our clients can easily understand the complexity of their Search Engine Optimization Private Web Networks.
When clients don't understand what they are getting, see the value in the work their SEO agencies are providing, seeing progressive ranking increases, upwards growth in website traffic, and/or get detailed and wise updates from their SEO providers, they leave for the next search engine optimization company fast.
This mapping softwares intention is to solve a number of the problems 99% of SEO agencies and marketing companies face everyday with their clients.
BUT… before we solve all of SEO'rs problems, let's understand these 5 precepts.
Not all websites are created equal by search engines.
Not all link building is valued equally by google search.
Not all content is valuable to google spiders or people.
Social matters more than you think to be relevant
Keyword data is golden because it helps you make more money.
After days and days of scouring the web, compiling social listening tools with http://www.IMonlineDashboard.com,  beating away on Google Search for SEO Tools, and pumping through forums and groups looking for a an ANSWER to our SEO Mapping problems!
How can we easily map out our SEO networks, online presence, site valuation data, all while easily understanding this information quickly without spending countless hours opening sites up, cross checking information, and plotting the data into spreadsheets?
I didn't want to pay a Virtual Assistant to do this for our network or our clients networks either because of the pure size and complexity of these networks.
BAM has invested thousands and thousands and thousands of dollars into our SEO building and our PBN networks to make sure our clients get the very best seo in the world. We have always stood to provide great reporting, organized data, customized development, quality assurance checking, great value and displaying the information in an interactive and sexy environment.
We wanted this Mapping Software to do the same.
In fact we wanted this SAAS to do most of the work for us.
Looking everywhere for this SEO software pack but to my painful demise, there was none. Every software company was fragmenting the information across vast distances on the web. Basically they were ripping the seams of wisdom away from the opportunities that will come forth if we consolidated the data. The information would be able to help us SEO consultants make better decisions when investing in SEO, consulting on search engine optimization, and putting top dollars into growing search engine rankings.
Google pulled away a lot of the data from google analytics when they went all encrypted SSL us and yes we can get more data if we link Google Analytics with webmaster tools but it doesn't solve the whole problem. So we can't keyword hunt by chance anymore. We have to be way more intentional with our SEO Keywords. Having a good analysis and ranking our websites for keywords that actually have traffic that converts is the intention, right?
Building business with intention makes goal setting clear and success easier to achieve.
So in the depths of our big loss in the market place, I decided to do something about it.
Develop our own software for PBNs , SEO , Digital Online Presence, and Content Valuation.
So you might be asking, "What will this software look like?"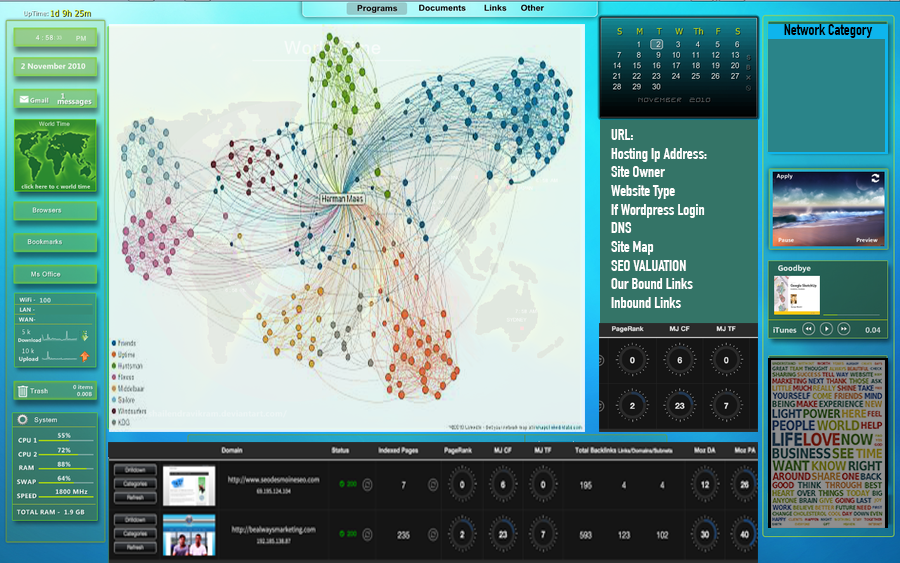 Something to this affect.
Yes, these are just mock ups without data to fill in but you can see how laying this information out could be incredibly beneficial.
How does the web point to your valuable pages?
How does your ranking positions change when you build out your network?
Find out more and stay up to date with this software development by opt-ing in here.
Other cool tools to check out. Linkedin data visualization mapping:
Facebook data with WolframAlpha.
OpenGraph Viz
Google Consumer Barometer
Who's looking for SEO Tools?
Comment below if you are too.